XM withdraw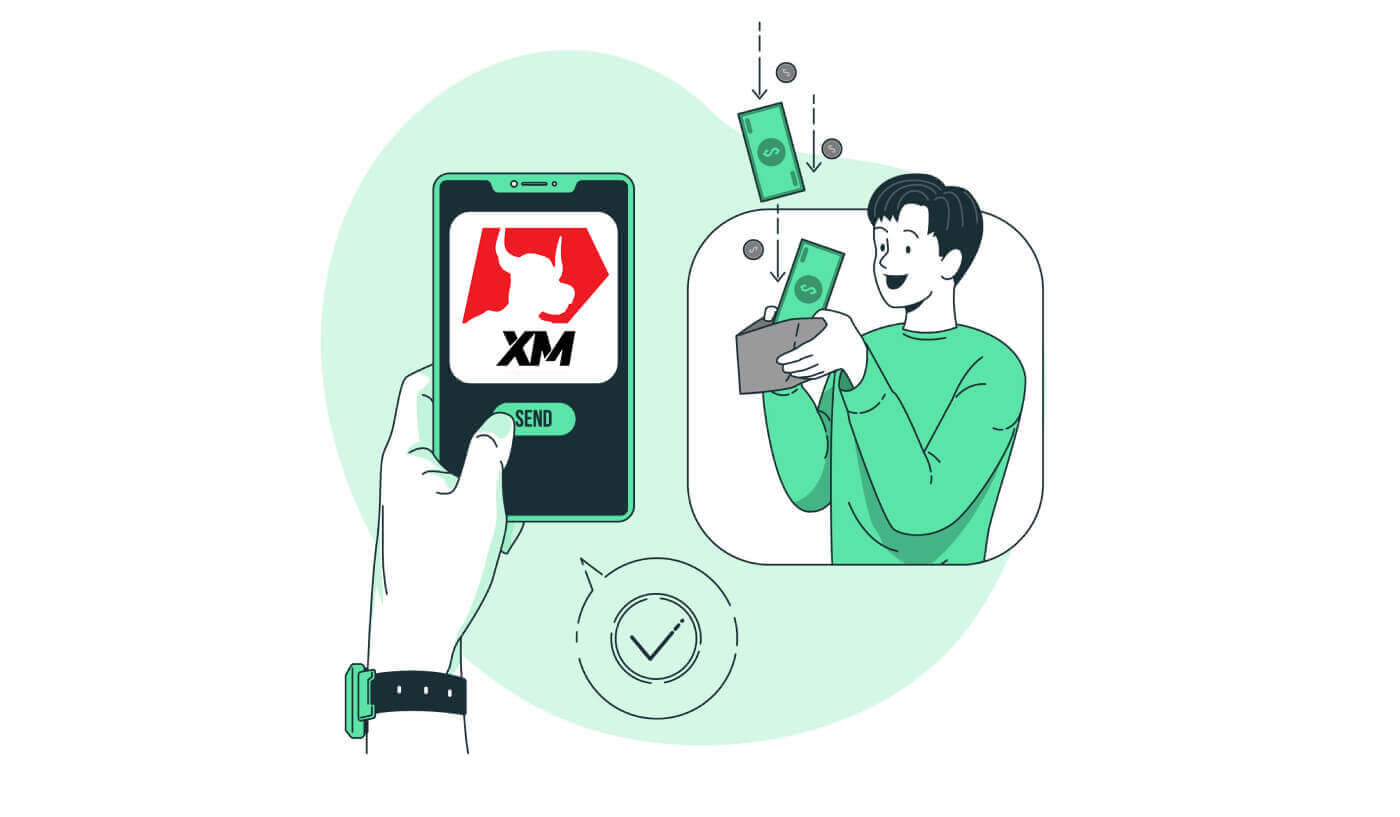 How to Withdraw Funds from XM



How to Withdraw 
1/ Click "Withdrawal" button on My account page
After logging in to My XM Group account, click "Withdrawal" on menu.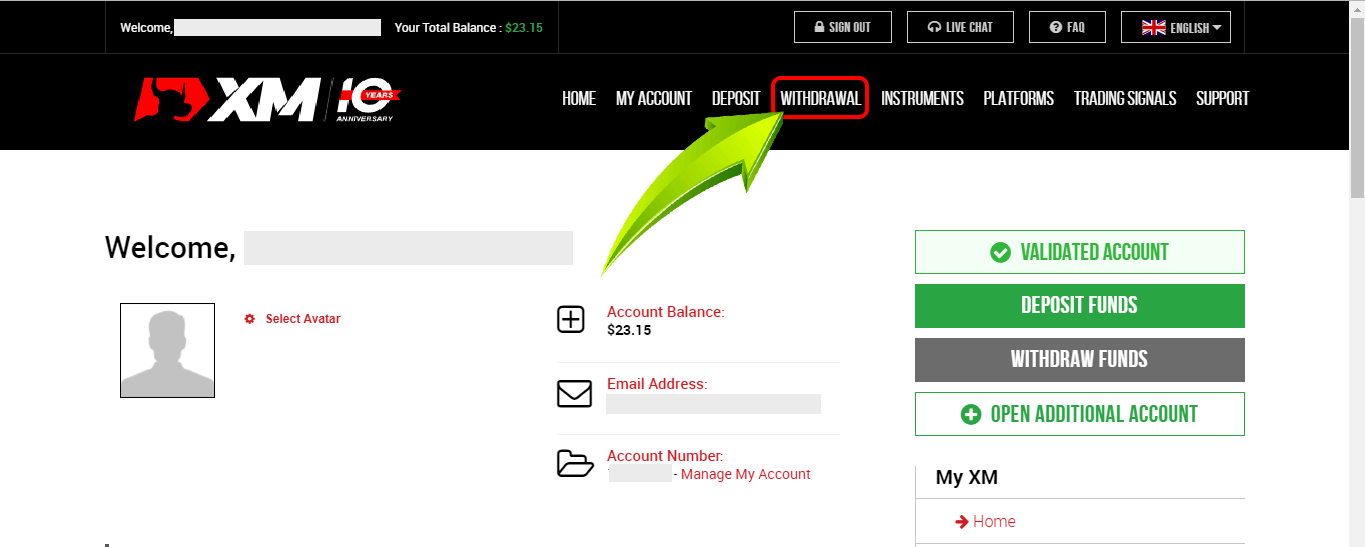 2/ Select Withdrawal options
Please note the following:

We strongly suggest that you submit withdrawal requests after closing your positions.
Please note that XM does accept withdrawal requests for trading accounts with open positions; however, to ensure the safety of our clients' trades the following restrictions apply:

a) Requests which would cause the margin level to drop below 150% will not be accepted from Monday 01:00 to Friday 23:50 GMT+2 (DST applies).
b) Requests which could cause the margin level to drop below 400% will not be accepted during weekends, from Friday 23:50 to Monday 01:00 GMT+2 (DST applies).

Please note that any withdrawal of funds from your trading account will result in the proportional removal of your trading bonus.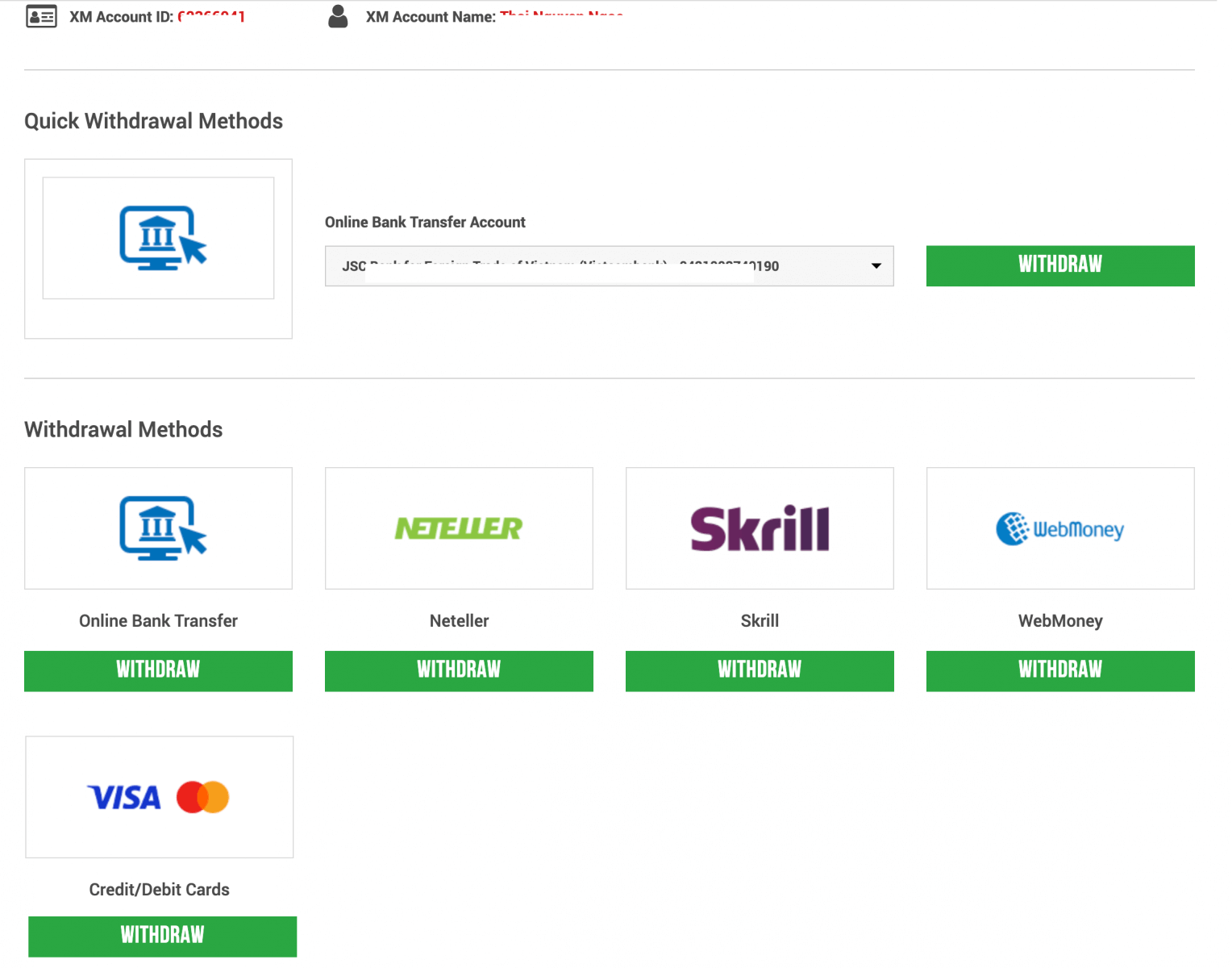 Credit/Debit cards can be withdrawn up to the deposit amount.
After withdrawing up to the amount deposited, you can choose to withdraw the remaining amount using whichever method you like.
For example:
You deposited 1000 USD into your credit card, and you make a profit of 1000 USD after trading. If you want to withdraw money, you have to withdraw 1000 USD or the amount deposited using credit card, the remaining 1000 USD you can withdraw by other methods.  
Deposit methods
Possible withdrawal methods
Credit/ Debit Card
Withdrawals will be processed up to the amount deposited by credit/ debit card.
The remaining amount can be withdrawn via other methods
NETELLER/ Skrill/ WebMoney
Choose your withdrawal method other than credit or debit card.
Bank Transfer
Choose your withdrawal method other than credit or debit card.
3/ Enter the amount you wish to withdraw and submit the request
For example:
you chosen "Bank Transfer", then select the Bank Name, enter Bank Account Number and the amount you wish to withdraw.
Click "Yes" to agree to the preferred withdrawal procedure, then click "Request".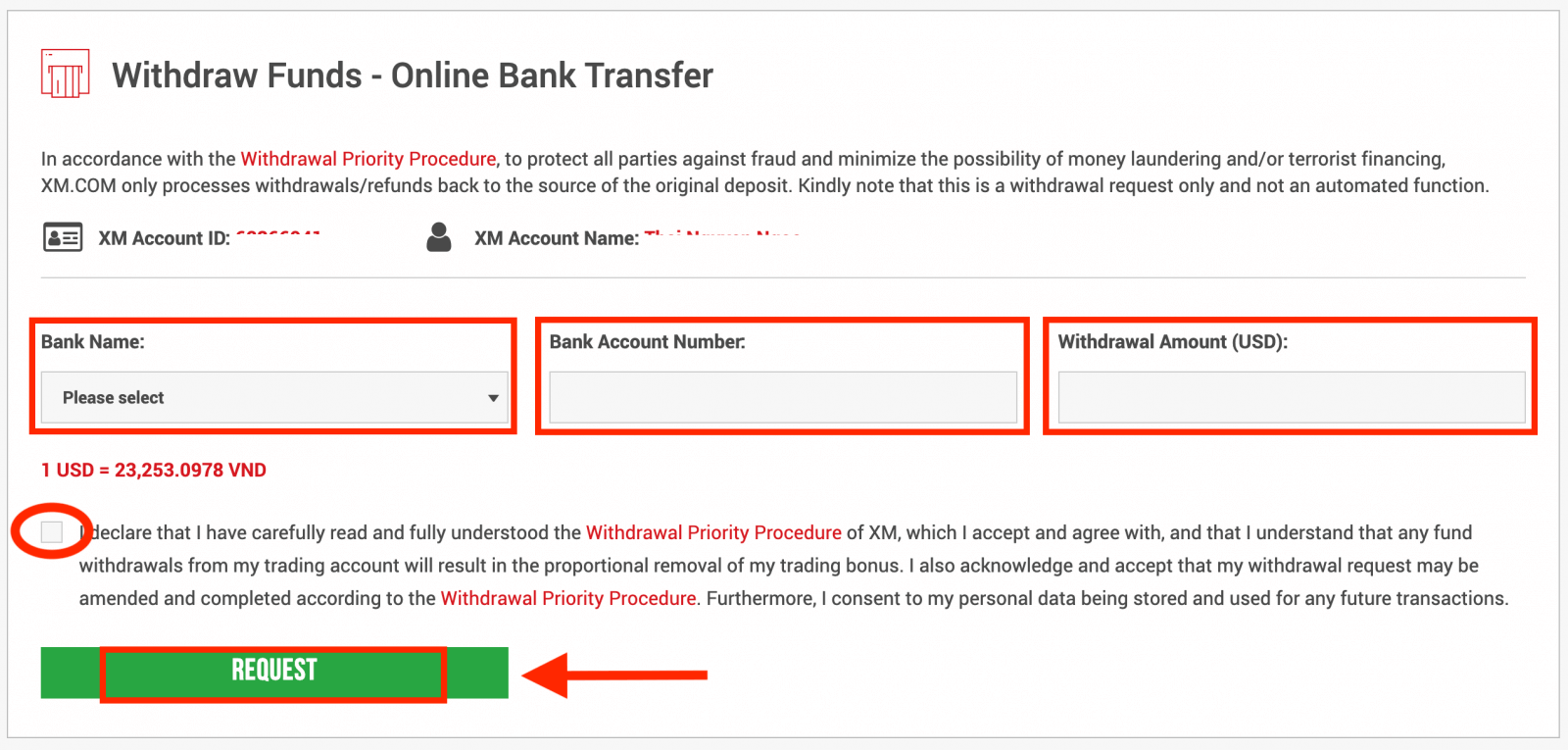 Thus, the withdrawal request has been submitted.
The withdrawal amount will be automatically deducted from your trading account. Withdrawal requests from XM Group will be processed within 24 hours (except Saturday, Sunday, and public holidays)  
| Withdrawal methods | Withdrawal fees | Minimum withdrawal amount | Processing time |
| --- | --- | --- | --- |
| Credit/ Debit Card | Free | 5 USD ~ | 2-5 working days |
| NETELLER/ Skrill/ WebMoney | Free | 5 USD ~ | 24 working hours |
| Bank Transfer | XM covers all transfer fees | 200 USD ~ | 2-5 working days |
As for credit cards and debit cards, since refunds are handled by card companies, even if XM Group has completed the withdrawal request within 24 hours
it could take a few weeks to a month to complete the process So, it is recommended that you withdraw the funds in a timely manner.
Disclaimers

XMP (bonus) that has been redeemed will be removed entirely even if you only withdraw 1 USD
At XM, a client can open up to 8 accounts.
Therefore, it is possible to prevent the removal of the entire XMP (bonus) by opening another account, transferring the investment amount to this account and using it to withdraw money.



What payment options do I have to withdraw money?
We offer a wide range of payment options for deposits/withdrawals: by multiple credit cards, multiple electronic payment methods, bank wire transfer, local bank transfer, and other payment methods.
As soon as you open a trading account, you can log in to our Members Area, select a payment method of your preference on the Deposits/Withdrawal pages, and follow the instructions given.  
What is the minimum and maximum amount that I can withdraw?
The minimum withdrawal amount is 5 USD (or equivalent denomination) for multiple payment methods supported in all countries. However, the amount varies according to the payment method you choose and your trading account validation status. You can read more details about the deposit and withdrawal process in the Members Area.
XM Withdrawal FAQ



What is the withdrawal priority procedure?
In order to protect all parties against fraud and minimise the possibility of money laundering and/or terrorist financing, XM will only process withdrawal/refunds back to the source of the original deposit according to the Withdrawal Priority Procedure below:
Credit/debit card withdrawals. Withdrawal requests submitted, regardless of the withdrawal method chosen, will be processed via this channel up to the total amount deposited by this method.
E-wallet withdrawals. E-wallet refunds/withdrawals will be processed once all Credit/Debit card deposits have been completely refunded.
Other Methods. All other methods such as bank wire withdrawals shall be used once deposits made with the above two methods have been completely exhausted.
All withdrawal requests will be completed within 24 working hours; however all withdrawal requests submitted will be instantly reflected in the clients' trading account as pending withdrawals. In case a client selects an incorrect withdrawal method, the clients' request will be processed according to the Withdrawal Priority Procedure described above.
All client withdrawal requests shall be processed in the currency in which the deposit was originally made. Should the deposit currency differ from the transfer currency, the transfer amount will be converted by XM into the transfer currency at the prevailing exchange rate.



If my withdrawal amount exceeds the amount I have deposited via credit/debit card, how can I withdraw?
Since we can only transfer the same amount back to your card as the amount you have deposited, profits can be transferred to your bank account via wire transfer. If you have also made deposits via E-wallet, you also have the option to withdraw profits to that same E-wallet.  
How long does it take to receive my money after I make a withdrawal request?
Your withdrawal request is processed by our back office within 24 hours. You will receive your money on the same day for payments made via e-wallet, while for payments by bank wire or credit/debit card it usually takes 2 - 5 business days.  
Can I withdraw my money whenever I want?
In order to withdraw funds, your trading account must be validated. This means that first you need to upload your documents in our Members Area: Proof of Identity (ID, passport, driving license) and Proof of Residency (utility bill, telephone/Internet/TV bill or bank statement), which include your address and your name and can't be older than 6 months.
Once you receive confirmation from our Validation Department that your account has been validated, you can request the funds withdrawal by logging in to the Members Area, selecting the Withdrawal tab and sending us a withdrawal request. It is only possible to send your withdrawal back to the original source of deposit. All withdrawals are processed by our Back Office within 24 hours on business days.  
Are there any withdrawal fees?
We do not charge any fees for our deposit/withdrawal options. For instance, if you deposit USD 100 by Skrill and then withdraw USD 100, you will see the full amount of USD 100 in your Skrill account as we cover all transaction fees both ways for you.
This also applies to all credit/debit card deposits. For deposits/withdrawals via international bank wire transfer, XM covers all transfer fees imposed by our banks, with the exception of deposits amounting to less than 200 USD (or equivalent denomination).  
If I deposit funds by e-wallet, can I withdraw money to my credit card?
To protect all parties against fraud and in compliance with the applicable laws and regulations for the prevention and suppression of money laundering, our company's policy is to return clients funds to the origin of these funds, and as such the withdrawal will be returned to your e-wallet account. This applies to all withdrawal methods, and the withdrawal has to go back to the source of the funds deposit.



What is MyWallet?
It is a digital wallet, in other words, a central location where all the funds clients earn from various XM programs are stored.
From MyWallet, you can manage and withdraw funds to the trading account of your choice and view your transaction history.
When transferring funds to an XM trading account, MyWallet is treated as any other payment method. You will still be eligible to receive deposit bonuses under the terms of the XM Bonus Program. For more information, click here.



Can I withdraw funds directly from MyWallet?
No. You must first send funds to one of your trading accounts before you can withdraw them.
I am looking for a specific transaction in MyWallet, how can I find it?
You can filter your transaction history by 'Transaction Type', 'Trading Account' and 'Affiliate ID' using the dropdowns in your dashboard. You can also sort transactions by 'Date' or 'Amount', in ascending or descending order, by clicking on their respective column headers.



Can I deposit to/withdraw from my friend's/relative's account?
As we are a regulated company, we do not accept deposits/withdrawals made by third parties. Your deposit can only be made from your own account, and the withdrawal has to go back to the source where the deposit was made.



If I withdraw money from my account, can I also withdraw the profit made with the bonus? Can I withdraw the bonus at any stage?
The bonus is for trading purposes only, and cannot be withdrawn. We offer you the bonus amount to help you open larger positions and allow you to hold your positions open for a longer period. All profits made with the bonus can be withdrawn at any time.



Is it possible to transfer money from one trading account to another trading account?
Yes, this is possible. You can request an internal transfer between two trading accounts, but only if both accounts have been opened under your name and if both trading accounts have been validated. If the base currency is different, the amount will be converted. Internal transfer can be requested in the Members Area, and it is instantly processed.



What will happen to the bonus if I use internal transfer?
In this case the bonus will be credited proportionally.



I used more than one deposit option, how can I withdraw now?
If one of your deposit methods has been a credit/debit card, you always need to request withdrawal up to the deposit amount, as a prior to any other withdrawal method. Only in case that amount deposited via credit/debit card is fully refunded back to source, you may select another withdrawal method, according to your other deposits.



Are there any extra fees and commissions?
At XM we do not charge any fees or commissions. We cover all transaction fees (with bank wire transfer for amounts over 200 USD).